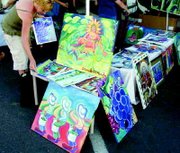 PROSSER - Sixth Street in downtown Prosser will again turn into a delight for wine and art enthusiasts at the fourth annual Prosser Art Walk and Wine Gala set for Saturday, July 21.
The thoroughfare will be turned into a walking street for visitors to stroll and enjoy art while sampling local wines and foods.
The event will take place from 6 to 10 p.m. on July 21.
This year the featured artist is James Mongrain, a glass artist/gaffer from the Seattle area.
Mongrain works with internationally-renowned glass artist and mentor Dale Chihuly, and his work has been exhibited nation-wide in galleries. Mongrain has focused his attention on designing and crafting Venetian goblets, Veronese vases, and a variety of custom work including sculptural chandeliers.
Joining Mongrain will be a variety of artists from all over the Pacific Northwest exhibiting their work for all to enjoy.
The art walk and wine gala will also have a decidedly local flair.
Yellow Rose Nursery of Prosser will fill Sixth Street full of ambiance with trees, fountains, and flowers. Local band "Private Reserve" will fill the summer evening air with jazz tunes.
There's also local flavor, as Sunnyside's Bon Vino's Bistro, along with Country Gardens Catering near Mabton, the Sixth Street Coffee Shop in Prosser and Garcia's Tex-Mex will be on hand with plenty of finger foods to tempt the palate.
A total of 20 Prosser wineries will be on hand to pour wine and, for those who prefer a nice cold brew, Whitstran Brewery of Prosser will be serving two of their microbrews.
Tickets are $10 purchased at the gate or in advance from the Prosser Chamber of Commerce.
Each ticket includes a glass, five tasting scrip and a program. Tickets are limited to the first 500 patrons. The art walk and wine gala is for adults 21 years and older. For more information or tickets, call the Prosser Chamber of Commerce at 509-786-3177 or Michele Villarreal at 509-778-1394.
Not all the fun will be reserved for adults, though, as during the same time the art walk is underway, 6 to 10 p.m., children will have an opportunity to enjoy the newly restored Princess Theater during a Fun Night.
Supervision will be provided for the children, and activities will include pizza, movies and a tour of the historic theater. Admission is $6 per child.
"It's a great opportunity for parents who wish to attend the Art Walk and Wine Gala," said Villarreal. "It provides kids with a cool, supervised, safe place to be."