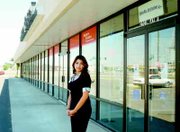 Business isn't exactly booming for some of the businesses at the strip mall in front of the Sunnyside Wal-Mart.
"One would think that these businesses would receive plenty of traffic due to this (being adjacent to Wal-Mart), but it seems to be exactly the opposite," notes Jessica Zamorano, a coordinator with the Sunnyside Chamber of Commerce's newly formed Ambassadorial Committee.
Zamorano works for one of the businesses in the strip mall, Totally Cellular, and noted that even though the shop has been there three years customers still think it is a new business. "They drive right by," she said. "They drive to Wal-Mart for their groceries and go back home."
The chamber is hoping to change that by throwing its first block party on Friday, July 27, at the strip mall. The event will start at about 4 or 5 p.m. and last approximately two or three hours.
Details are still in development for the block party, as food booths and in-store specials are still in the works. One business, Bernina vacuum cleaners, is planning to offer wine tasting during the block party.
Zamorano said the aim of this and future block parties is to help re-introduce the community to businesses near the Wal-Mart store, which range from hair styling to take-and-bake pizza.
Chamber of Commerce Director Pam Turner said the block party is an outreach of the ambassador program in not only recruiting new members, but in "networking and people getting to know each other."
Turner added, "We're trying to be more pro-business and this is one step in that direction. This is part of the path we're taking."
Other business networking events planned for this year include a business expo in October and perhaps bringing in guest speakers to address topics for small business owners.
"The Chamber wants to show its support to our local business owners," Zamorano said. "We want to let them know that Sunnyside is a good place to have a business, and that they will hopefully never feel alone in their business venture from now on."
Sunnyside chamber plans July 27 block party