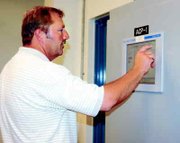 Upgrades to Sunnyside's wastewater treatment plant that were prompted by a lawsuit are now complete.
"The plant upgrades are complete and now we're just finishing up our landscaping and a few minor items that need to be taken care of," said Public Works Director Jim Bridges. The portion of the facility that deals with liquids was completed mid-March and the portion that deals with solids was completed in May.
Sunnyside was sued by an environmental group and lost the suit in 2002, Bridges said. After losing, Sunnyside had to come up with a facilities plan to identify shortfalls, identify a timeline and complete improvements.
During the planning phase, the estimated cost was $12 million, but by the time the project was complete, the city had spent $18.5 million due to inflation, Bridges said.
Chief among the identified shortfalls was the fact that the plant had a lack of redundancy systems. The city had one primary clarifier that had been in use since 1946.
There were two other shortcomings as well: high ammonia levels and high chlorine residuals in the effluent stream.
Bridges said that today, the facility is in compliance thanks to the addition of two aeration basins, a primary clarifier, two secondary clarifiers, a post aeration basin, a gravity belt thickener and an ultra violet disinfecting facility.
Also in use at the plant is a state-of-the-art SCADA computer system, which allows plant workers to operate the entire plant from five remote terminals throughout the facility.
"When you go out there, you'll see two of everything. That's our redundancy system," Bridges said. The addition of the ultra violet portion eliminated the need to use chlorine.
Bridges said that the plant has always had the goal of being able to handle eight million gallons of flow a day to accommodate future growth and that hasn't changed.
While the changes didn't eliminate any jobs, the question that hangs in the air is whether or not it's more efficient in terms of operating costs. "It's too early to tell," said Bridges, adding that because of the upgrades, the plant is easily using three times more power.
To pay for the upgrades, the city received a $12.3 million zero-interest, 20-year loan from the Department of Ecology, a $5 million Centennial Clean Water grant (also from Ecology) and an additional $1 million grant from the Environmental Protection Agency.
Bridges said that an open house will be held once the landscaping is complete.