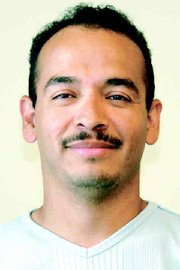 MABTON - Focusing on education is the goal of the newest Mabton School Board member, David Rodriguez, who believes in serving the community.
Having lived in the Mabton community for approximately 15 years, Rodriguez said he and his wife have always looked for ways in which to serve the community.
"I have always been a true believer that education is the true foundation of success," he stated.
When Manuel Guzman announced his resignation from the school board, Rodriguez believed an opportunity awaited him.
"I believe being on the board will give me the opportunity to make a difference in the community by helping make important decisions that will influence higher achievement goals for all children in the Mabton School District," he said.
Rodriguez and his wife have always stressed the importance of education at home, and he has been working in education for 12 years. He said he is also working toward his degree in education.
Some of the objectives he hopes to accomplish while on the school board include looking at the local educational data and utilizing the information to "...pursue additional effective teaching strategies.
"I believe our teachers are doing a great job in Mabton, and I want to give them more," Rodriguez commented.
He said he considers himself a great listener and believes it is important to listen to the community in regards to the programs "...they feel need to be brought into the district."
He said parents often ask about adult programs, such as literacy and computer training.
Rodriguez hopes he can help the school district meet such needs.
He said he is very passionate about the education of the Mabton community because he feels education will enable the community to become a stronger community.
In Rodriguez's past, he worked with the school district in bringing several grants to the district. "I hope that will help me to find more grants that might benefit the schools," he stated.
His ultimate goal, however, is that he would like to help more children realize their potential.