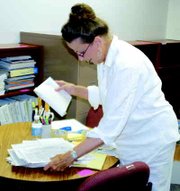 Sally Lorenz-Reeves may have retired as the Sunnyside School District's Director of Student Learning, but the Yakima resident plans to keep plenty busy in retirement.
Lorenz-Reeves was at Sunnyside for five years and has a total of 28 years experience in education.
As the district's learning director, she focused in areas such as math and science curriculum. Lorenz-Reeves also ran a new teacher training program in the district.
As if that wasn't enough-there were 50 teachers new to the district last year alone-Lorenz-Reeves also was responsible for a district-wide improvement plan.
With so many hats to wear, Lorenz-Reeves decided the time was right to retire and focus on her first love of sorts, organizational development for school districts.
Lorenz-Reeves said she has 15 years experience in working with school districts to improve learning and classroom environments.
While packing up her things from her office at the Denny Blaine office, Lorenz-Reeves said she will move on to a part-time contractual partnership with the state, where she will get to focus on helping to improve school districts with her organization experience.
She said it was frustrating at Sunnyside to have so many jobs to do and try to do them well. Of her future work with the state, Lorenz-Reeves noted, "This will allow me to work fully on organizational development."
Besides her part-time work with the state in helping school districts, Lorenz-Reeves also plans to pursue art in the form of pottery, painting and poetry. She'll also work in her garden.
"I will not be bored," she smiled.