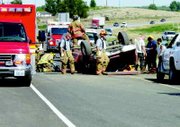 After passing a semi last Friday at approximately 4 p.m., along Interstate 82 just before exit 69, a westbound Ford F-250 driven by Randy Groves, 41, of Prosser rolled four times before landing on its top and pinning the driver's leg.
The semi truck driver, Sanny Brar, said Groves cut the semi off at the exit after passing him.
"He was going fast and hit the exit at the beginning. Then, he was rolling," said Brar.
Travis Williams of Boardman, Ore. was a passenger in a vehicle traveling behind Brar's semi. He said he believes Groves may have realized at the last second exit 69 was the exit he wanted, explaining why the pick-up suddenly darted from the passing lane towards the off-ramp. "I saw him just keep rolling," Williams stated.
According to Washington State Patrol Trooper John Ladines, Groves was the only person in the pickup and it appeared Groves lost control of his vehicle after passing the semi.
"The main cause of the accident was he was cutting across two lanes in front of a semi and lost control of his vehicle," said Ladines.
In a later report, Ladines determined drugs or alcohol are believed to have been involved in the accident. Groves was wearing his seat belt.
The vehicle's distance of travel during the rollover is believed to have been approximately 150 yards.
"He may have a possible broken leg, but it is unknown what other injuries he may have sustained," said Ladines.
After the jaws of life were used to extract Groves from his vehicle, he was transported to Sunnyside Community Hospital by the Sunnyside Fire Department's ambulance service.
Agencies that responded to the scene included Yakima County Fire District #5, stations 14 and 13, Grandview and Sunnyside firefighters and the Washington State Patrol.
The exit was closed by the Washington State Patrol until the Ford F-250 could be removed from the offramp.