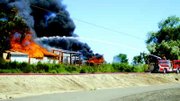 A Sunnyside resident lost three outdoor sheds, a couple of old junk cars and an inoperable boat yesterday in a fire.
Sunnyside firefighters, with help from Yakima County District #5, responded to the blaze in the 500 block of South Hill Road at 2:45 p.m.
Sunnyside Deputy Fire Chief Lloyd Hazzard put the damage of the sheds, cars and boat at $2,500.
Hazzard said fire crews were unable to determine a cause for the fire, which took about 30 minutes to get under control. Hazzard said Sunnyside firefighters were on the scene for approximately two and one-half hours.