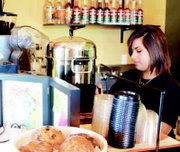 Something for everyone is about the best way to describe Jem's, a hair salon, coffee stand and gift shop that opened this month at 712 Yakima Valley Highway in Sunnyside.
Aracely Villalobos owns Jem's, which takes its name after the initial of the first name of each of her three children.
The family connection doesn't end there, as Villalobos' niece, Rachel, is one of the hairstylists at Jems.
Villalobos decided to open the shop after the last of her three children started school.
She's found plenty to keep her busy with Jem's, which offers gift items ranging from home decor to children's toys.
That's in addition to the full service hair salon that features a big screen television for patrons to enjoy while getting their hair styled.
The espresso stand offers the traditional hot and cold coffee drink favorites, as well as ice tea. But there's a twist with the smoothies Jem's offers, which include some tailored to children, such as bubble gum smoothies and others with gummy worms.
Hot and cold drinks are half price on Wednesdays, Villalobos said. That's in addition to daily specials. The coffee stand also features bagels and cookies.
Jem's is open 9 a.m. to 6 p.m. Monday through Saturday, and 10 a.m. to 5 p.m. on Sunday.
The shop also offers gift certificates and can be reached at 839-8251.
Appointments for the hair salon can be either made by phone, or walk-ins are welcome.