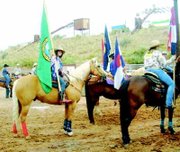 A Sunnyside woman has received her wish and is one step closer to becoming a city resident.
The Sunnyside Planning Commission unanimously approved the annexation of Irma Mendoza 3.43 acres after a public hearing Tuesday night.
City of Sunnyside Associate Planner Jame Ayling told the commissioners the city had received Mendoza's application to be annexed into the city limits after her septic tank failed.
Yakima County Health Department informed her since there was an existing city sewer line within 300 feet of her property, she had to hook-up to that instead of digging a new septic line.
Ayling said Mendoza took her matter to the city council and council recommended the case to the planning commission.
If Mendoza hooked up to the city sewer line but remained outside the city limits, she would have to pay 1.5 times the normal rate for city sewer and she would have to sign an outside utility agreement.
Mendoza's property, located at 1080 Midvale Road, is right across the street from a heavy industrial zone.
"We need to stay within the industrial zone for the time being and it is within the realms to go with a light industry zoning next to a heavy industry zone," Ayling said.
The recommendation will now be forwarded to the Boundary Review Board in Yakima for a 45-day review. If the Boundary Review Board approves the annexation, it will go back to the Sunnyside City Council to be voted on.