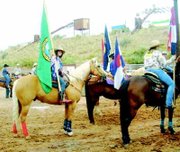 GALLUP, N.M. - This was Kellie Wiersma's first and last year riding for the Washington State Wrangler Junior High Rodeo Team but still the upcoming freshman learned a valuable experience.
"I learned to not be nervous at competitions," she said. "The horse can feel it. When you're both nervous you aren't able to work together very well."
Wiersma learned this in Gallup, New Mexico last week as her team participated in the third annual Wrangler Junior High Finals Rodeo. Forty-six states in the U.S. were represented and several provinces from Canada and Australia were represented as well.
Wiersma joined 900 other young riders competing for a share of $75,000 in prizes and $50,000 in college scholarships.
"It was the biggest event I've ever been to," she said. "I was pretty nervous."
Wiersma qualified for the event by placing among the top four barrel racers in Washington. In New Mexico, she competed against approximately 200 other riders.
Asked how she did? Wiersma responded, "Not so good."
She said in her first run she knocked a barrel over and that kind of bumped her out of contention.
"After that, I didn't have a very good chance of winning it," she said.
On the second day, the wind was blowing hard. She had a perfect run after the first two barrels but when she came to the third barrel, a tarp blowing around in the wind spooked her horse, Chachi, and he checked out.
"He took off and didn't want anything to do with the barrel or the tarp," she explained.
Wiersma isn't finished by any means even though she's done with the junior high circuit. She plans on competing in events with the National High School Rodeo Association this fall and will start, she said, in 60 days.