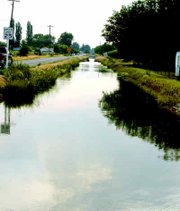 There's enough irrigation water to carry users through this season. That's according to Sunnyside Valley Irrigation District Assistant Manager Don Schramm.
"It's just kind of a classic average year," said Schramm.
Schramm said that each year, SVID counts on two things: water storage, which accounts for 40 percent of water usage, and snowpack, which accounts for 60 percent.
In a normal year, on average, SVID transitions from using the snowpack water to the storage water by June 24. This year, Schramm said, the storage water began to flow on June 20.
Schramm did note that this has been, so far, an unusually hot and dry year. But, he said, "We'll have plenty of storage (water) to get us through the end of the season." He did add that, even though water will likely flow until the usual cut-off date in October, SVID may end up with less carry over for next year. "It depends on how hot and dry it stays," Schramm said.
Schramm summed up this season by saying, "It's nice to be in the middle of the road, rather than too much (water) or too little."