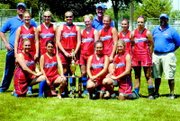 The Pepsi Stealers American Softball Association's fastpitch season has been a work in progress.
A Sunnyside girl, Brittani Ramerman, helped the Yakima club to its best finish so far this season with a second-place trophy at last weekend's Moses Lake tourney.
"Our pitching was really on," Ramerman said. "Our hitting came alive."
Ramerman, a first baseman, joined the Stealers' hit parade with two doubles, three singles and two steals over the tourney's five games. She said she collected three RBIs in one of the games.
The Stealers were only bested by a Seattle club during the double-elimination tourney, losing a 10-inning game to the westside squad on Saturday night, then falling short to the same club in Sunday's championship tilt.
Ramerman, a Sunnyside High School junior, completed her second season for the Lady Grizzly varsity softball team last spring. She said the experience of winning a trophy was new for her.
"Playing for Sunnyside we had never been to State," she said. "So it was different to get a trophy. It was pretty cool!"
Ramerman said the tourney hardware was a confidence booster for the Stealers' pitching staff.
She's feeling the uptick in confidence as well, heading into this weekend's tourney at Selah.
"I'm really understanding my strike zone," she said of her approach to batting. "I'm hitting better. I'm more disciplined at the plate."