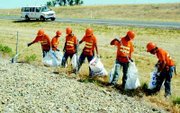 GRANGER - It's hot, it's dry and Sunnyside High School junior Omar Valencia takes a well-deserved lunch break at the Conoco gas station here.
It's another day at the office, so to speak, for Valencia and other Sunnyside and Lower Valley youths participating in a summer highway clean-up program.
For the 19th summer Harrison Middle School teacher Chet Bridger is leading the way, guiding the youths in picking up everything from paper trash to discarded tires along I-82.
The program, known as Ecology Youth Corps (EYC), works in conjunction with the state's ecology department in cleaning up highway corridors.
Bridger oversees two crews responsible for a 30-mile stretch of I-82 between Zillah and Prosser. He figures the crews cover about 5 miles a day. But they don't just give the territory a once over, as crews will back track to pick up garbage.
Sometimes within an hour or two of cleaning up an area Bridger said he will notice garbage already dumped in that same area.
Even when he's not overseeing the work crews, Bridger said he keeps an eye out on roadside litter.
"You can't help but see the garbage beside the road," he says.
In an effort to deter or catch litterbugs, Bridger says he keeps his cell phone handy to report violators to the state's 1-866-LITTER-1 hotline. Littering fines can total up to $1,025, with dumping fines reaching upwards to $5,000.
Valencia is in his third year as an ECY summer employee and agrees that something needs to be done to combat highway litterbugs.
"I'd like to see people stop littering," the 16-year-old said.
Sunnyside freshman Maria Olivera is in her first year with ECY, which is open to youths ages 14-17. She sees heat as one of the primary enemies you have to battle on litter's front lines. "I bring a lot of water," she smiled.
Both Valencia and Olivera appreciate the new people they get to meet while working with ECY, as well as the summer paycheck.
"I needed the money," Olivera said.
There is a selection process for ECY's summer hires that rivals that of any other seasonal or permanent job.
"They have to have a reference and go through an interview and screening process," explained Bridger, a fitness and health teacher at Harrison.
Rod Hankinson coordinates ECY's efforts in central Washington, and praised the work of Lower Valley youngsters. "I've been here 18 years and they do a good job down there."
Hankinson said motorists should keep an eye out for the local teens working alongside the highway.
"These are kids from your community," said Hankinson. "We hope drivers will be extra-cautious when they see the orange signs and crews along the road."