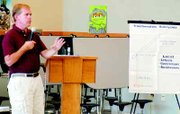 Supporters of the Transformation Sunnyside group learned last night how they could help transform one life at a time through participation in the community accountability board program offered by the Yakima County Juvenile Court.
Dan Behler coordinates the accountability board program and spoke to about 50 community members in attendance at Sierra Vista Middle School.
According to information Behler provided last night, there are typically 1,800 cases a year filed through juvenile court. Of those, 1,500 enter the diversion program in which the offender appears before a volunteer community accountability board to determine the most appropriate way to address a crime.
More than 80 percent of juveniles who go through the diversion process do not return to the county juvenile system.
Behler said it is typically first-time offenders who appear before the boards, which meet twice a month.
Board members are appointed by a Superior Court judge from a volunteer pool of applicants and are divided into teams of three, meeting with juvenile offenders and their parents.
There are an estimated 100 accountability board volunteers in Yakima County, 18 of them in Sunnyside. Behler said last night that more are needed here because not all board members can attend every meeting.
The types of juvenile crimes considered by the board include trespassing, shoplifting, possession of alcohol, malicious mischief (as long as damage is valued at $250 or less) and driving without a driver's license.
Penalties can range from monetary, to community service, to written assignments.
The diversion program is mandated by state law as a way to relieve some of the housing pressure on juvenile detention systems.
Beyond the benefit of community members holding offenders personally accountable, Behler noted that diversion through the accountability board costs $4 per day in contrast to the $125 per day for detention.
For more information about the community accountability board or to submit a volunteer application, call the juvenile court at 509-574-2050.