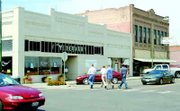 GRANDVIEW - With just over $40,000 in state grant funding in hand, the city of Grandview is set to look at planning a new look for its downtown area.
City Administrator Scott Staples said the city grants will be used to plan new road and sidewalk improvements on Division Street between Wine Country Road and the railroad tracks, as well as Second Street between Grandridge and Birch.
The planning grant will also be used to come up with design options for the look and facades of downtown storefronts. The result may be a theme. Zillah, for example, recently came up with a Tuscan theme for its downtown business district.
Or the result may be a coordination of efforts and colors tying into Grandview's history or carrying a wine country identity.
Researchers from the UW will work with the city and actually develop computer-designed images of what the downtown storefronts could look like with coordinated themes and/or colors.
The planning effort will start in September and the results should be available by March 2008.
Staples said the planning process will involve one-on-one meetings with building owners in the downtown district, followed by community meetings to review the plans UW researchers come up with.
The final plan will have to ultimately be approved by the Grandview City Council.
Staples said a key for Grandview's successful grant applications was teamwork within the local community.
Partnership is crucial, he said, noting that state grant officials in Olympia need to see that a community is behind an effort.
That certainly appears to be the case in Grandview, where the $40,000 in state funds will be leveraged into more than $80,000, thanks to money contributed by partners such as the city, the Port of Grandview and the Grandview Rotary Club.
The next step will be to take the plans developed and later approved by council back to the state for more grant funding to actually implement the design standards for the city.
Staples indicated there may also be a program developed to help property owners in the design area to have building facades that fit into an overall theme which may be adopted.
The earliest construction date on actually upgrading the city's downtown core would likely be summer of 2009, Staples said.