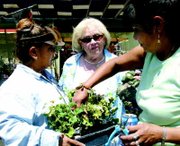 Watering plants, helping customers make landscape decisions and loading landscape materials is a true joy, according to Lava Rock Nursery's Martha Yanez.
After many years of working in the fields, Yanez became an employee at Lava Rock Nursery through People for People eight years ago. "And I haven't regretted it at all," she stated.
Yanez said she enjoys watering the plants and trying to keep them aesthetically pleasing for customers every day. "I have learned a lot about plants and the environment needed here," she said.
Her favorite task at Lava Rock is driving the tractor to load rock, bark and trees "...because of all my years in the fields."
Yanez is quick to offer a friendly smile to each of her customers. "I enjoy helping them find what they need," she said.
"I like treating customers the way they should be treated ... with a smile on my face."
She said she really enjoys planting pots and baskets because of the various flowers Lava Rock has for its customers.
"I like working outdoors and I have fun here," she said. "I like my co-workers and bosses, who aren't really like bosses. The owners, Gary and Billie (Warwick) aren't really demanding. They are just like regular co-workers."
Yanez also said she is busiest from the beginning of spring until well after the Fourth of July. "Lots of people want to do a lot of planting then," she said.
She also said she doesn't mind the heat of summer because she is accustomed to it. "But, I do like to take a break in the shade," she laughed.
When asked if Yanez has specific duties she said, "I pretty much do everything everyone else does."