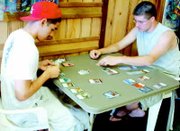 Downtown Sunnyside was the site last Saturday for nine hours of gaming with 33 participants, some coming from as far away as Oregon and California.
It was part of the annual Magic trading card tourney put on by Toy Dreams in Sunnyside.
Diane Marsh is one of the owners of the store and figures this year's contest was the biggest to date.
The reason, she says, is because Saturday, July 14, was a worldwide Magic game day. Toy Dreams was the only Lower Valley store authorized to hold a Magic card competition.
Magic cards, which are somewhat similar to the game Dungeons and Dragons, came out in 1994 and Saturday's event featured rare 10th anniversary cards.
The 33 participants in Sunnyside on Saturday were whittled to a quarterfinal line-up of eight players based on winning percentages during five rounds of play in the tourney.
The overall winner and top four finishers were then decided in single-elimination bouts.
First-place honors went to Andy Nonnenmacher of the Tri-Cities. Second and third place finishes went to Nathan Anderson and Zach Luther.
The top finisher among Lower Valley competitors was Darwin Reyna of Mabton, who earned fourth-place honors.
For his first place finish, Nonnenmacher received a Magic backpack, a booster display box of Magic cards and a counter to keep track of life points used or accumulated during the game. Those who finished in second through fourth place received a life counter as well as a card box.
"It was our best turnout so far," Marsh said of Saturday's event. "It put Sunnyside on the map."
John Fannin/Daily Sun News
Darwin Reyna of Mabton (L) and Chad Pierce of Grandview check out their cards during a Magic game tourney in Sunnyside last Saturday. Reyna was the highest Lower Valley finisher, taking fourth-place honors out of 33 participants.