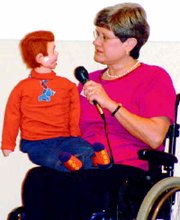 PROSSER - Just a week after announcing their engagement the young couple found themselves in a terrible, tragic car accident.
That was 38 years ago and this past Monday at the monthly Lower Valley Christian Women's Club luncheon Faye Pruitt of Newburg, Ore. described how her spirit overcame the paralysis in her legs that resulted from the accident.
In the aftermath of the accident, Pruitt spent three months in a hospital, then additional time in therapy when doctors realized there was no hope she would walk again.
A paraplegic, Pruitt said a depression overwhelmed her even though her fiancee (and now husband of more than 35 years) again pledged his love to her.
"I thought maybe I shouldn't marry him because I didn't want to tie him down," she said of the limitation she saw in trying to make a home without the use of her legs.
Two people entered Pruitt's life to show her otherwise. One was a woman who, like her, had lost the use of her legs, but was able to keep a home and raise a family.
The second was someone who showed her how to use ventriloquism.
Now more than 30 years later, Pruitt talked about how she and her husband raised a family with two children, noting that her pregnancy and labor were normal except with her paralysis she could feel no labor pains. She added though, that she did have a bad headache during labor.
She also continues to use ventriloquism with her dummy Willy, to teach and entertain audiences around the Northwest.
That included the ladies gathered in Prosser Monday at the Barn Restaurant, who had a good laugh at Willy's antics.
On a serious note, Pruitt credited her faith in Jesus Christ to lifting her out of the sorrow she felt when she initially became paralyzed.
"God showed me that if I didn't give up I could be normal," she smiled. "God can help you if you're willing to give your life to Him."