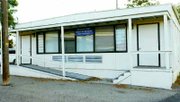 MABTON - Mabton residents with absolutely no form of health insurance need worry no longer, thanks to Sunnyside Community Hospital's latest venture: the Mabton Wellness Center.
The project was made possible due to a $37,000 grant from the Yakima Valley Community Foundation. Said Sandra Linde, Special Projects Coordinator for the hospital, "If they hadn't have done that, I don't believe we would've started (this) project." Linde said the funds were used for start-up and one-year's worth of supplies.
According to hospital CEO Jon Smiley, the center will provide screening programs to Mabton residents, as well as health classes, immunizations and sports physicals. "Where needed, we will also be able to refer patients for care in Sunnyside or elsewhere," Smiley said.
"The goal is to get more treatment to more people in Mabton. We also want to reach people sooner than if they had waited until a time of crisis presented at the emergency department."
According to Tom Lathen, Community Relations Director at the hospital, services will be provided free of charge for those without insurance. Patients may be eligible for a sliding fee scale if they are referred elsewhere for services.
"The care you need to create a healthier Mabton" is the theme for the new clinic, according to Lathen.
Linde said that, initially, the goal was to create a clinic for children. But, after a needs assessment, Linde realized there were senior citizens in the community that don't have a normal healthcare provider or medical facility home. She's hoping that changes due to the Mabton Wellness Center.
Linde said the Mabton School District has donated the use of a portable directly adjacent to Artz-Fox Elementary School that will serve as the clinic site.
Hours will be Mondays from 8:30 a.m. to 12:30 p.m. and Wednesdays from 3:30 p.m. to 7:30 p.m. No appointments will be made, service is on a first come, first serve basis.
Initially, the clinic will be staffed by Nurse Practitioner Michelle Mitchell.
A ribbon cutting is slated for next Wednesday, July 25, at 3 p.m. and the Mabton Wellness Center will open its doors that day as well.