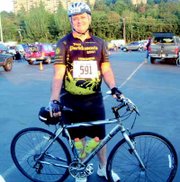 The Lower Valley was represented during last weekend's Seattle to Portland bicycle run. That included two doctors from a Sunnyside chiropractic clinic, Troy Fodor and Tim Thompson, and a Sunnyside Community Hospital employee, Tom Lathen.
It was Lathen's second attempt at the event.
"I did it four years ago and didn't finish and I wanted to try it again," Lathen said.
Despite weeks of training, though, the heat and humidity of western Washington last Saturday was too much for Lathen, who had to leave the race after 50 miles.
Prior to the race, Lathen asked his wife to make him wait an hour before quitting if he ever thought about stopping the race.
He waited the hour, but still knew it was time.
"I asked myself why I was doing this. It wasn't fun" he said, noting the combination of pain and doing the ride alone made him decide from now on to stick to rides 50 miles or less.
"It gave me some perspective on what's important," he said. He may not have finished the ride, but it was still a good cause as he raised $1,000 for Parkinson's research, a disease which claimed his mother.
Lathen is scheduled to preach at his home church Sunday, July 29, and was set to talk about how God helped him overcome to finish the race.
"I might have to think of something different now," he laughed.
Lathen may not have finished the Seattle to Portland bike trek, but his example inspired Fodor and Thompson to give it a try.
"Tom Lathen from the hospital inspired me," Fodor said. "He's the reason I went."
Fodor and Thompson stayed close together on the Seattle to Portland bike run, starting at 4 a.m. on Saturday and ending up in Portland at 7 p.m. that same day.
Thompson said they probably spent the better part of 11 hours on the bike, with stops every 50 miles to take a break.
The two trained for 10 weeks leading up to the bike run, with Thompson logging about 800 practice miles and Fodor more than 1,100.
Practice still didn't prepare them for all they would endure on the Seattle to Portland run, including highway traffic.
Then there were other practical considerations.
"Just being on the bike for that many hours is real tough on the rear end," Thompson said. "I had some knee problems, too."
Fodor and Thompson originally planned to make it a two-day bike ride.
"But it was better to get it done in one day. We heard that getting back on the bike for a second day is the hardest part," Thompson said. Added Fodor, "I didn't relish the thought of getting back on the bike for a second day."
Though there was plenty of traffic along the Highway 99 route-one cyclist was hit by a drunk driver-there were also 9,000 bicyclists and thousands more along the roadway lending moral support.
"There were literally thousands of people along the road cheering us on," Thompson recalled. "It felt like a mini Tour de France. People would give you high fives as you were going by."
Fodor said the toughest part of the bike ride for him was cycling down the Longview bridge into Oregon. "The expansion joints on the bridge are far apart and when you're going downhill on a bike you really slam into them," he noted. "You feel like the bike is going to fall apart, but you can't slow down for them."
Fresh off their successful Seattle to Portland ride, Fodor and Thompson are planning a 120-mile ride this September in Canada to raise money for cancer research.
And they plan to do the Seattle to Portland event next year.
"I'm going to train more, put in twice as many miles," Thompson said.
Fodor said he was thankful for the bike pathway that crisscrosses the Lower Valley through Sunnyside and Grandview. "We do that for our short ride," he said of practice runs that include the trail.
For those thinking of giving Seattle to Portland a try, Fodor's advice is simple and to the point, "Get a good training schedule and stick with it."