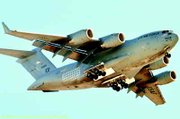 Next week McChord Air Force Base will conduct a flying competition called Air Mobility Rodeo 2007, over the skies of central and eastern Washington.
The event will take place next Monday through Thursday, July 23-26 and local air pilots are urged to use caution and be aware of the competition which will include low-level flying exercises.
"Although Rodeo is an exciting and rewarding experience, it does create an increased potential for conflicts and mishaps in Washington's crowded airspace," McChord Chief of Safety James Shigekane cautioned.
Air Force planes included in the competition will include heavy-duty C-17, C-130 and C-160 aircraft performing tasks such as aerial re-fueling and airdrop operations.
Shigekane said the routines to be showcased next week will also include night-time operations and activities that are used in Air Force missions around the world.
Though operations will be based in Grant County, Shigekane said the operations next week would take place around the clock over air space throughout the eastern and central portions of the state.