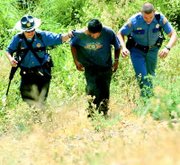 GRANGER - A two-vehicle head on collision yesterday (Thursday) just outside Granger resulted in a fatality and a manhunt.
Francisco Flores, 40, of Grandview was traveling southbound on SR 223 just after 10:30 a.m. with his passenger, Sergio Gomez-Cruz, 35, in a 1992 Toyota Camry. Flores crossed the centerline of the highway in the path of a 1999 Dodge Ram pickup towing a horse trailer. The pickup was driven by Thomas Van Ruiten, 63, of Sunnyside.
According to Trooper Todd Sharpe, the vehicles struck one another head on, sending Flores' vehicle in a clockwise spin around the horse trailer.
Flores fled the scene of the accident, leaving the deceased Gomez-Cruz behind.
Van Ruiten was treated for injuries by Yakima County Fire District #5 and released at the scene.
Flores traversed a nearby pasture to a stand of trees, leading Washington State Troopers to surround the area, said Sharpe.
At approximately 10:50 a.m., the highway was closed to all traffic because the accident blocked both the northbound and southbound lanes. Traffic was detoured via local roads, according to Washington State Department of Transportation officials.
The Washington State Patrol called in the Yakima K-9 unit to help with the search for Flores, according to Sharpe.
The K-9 unit arrived at the scene at approximately 11:45 a.m. Troopers and Yakima County Sherriff's deputies were explaining to the K-9 officer where they believed Flores might be hiding shortly before the suspect could be seen emerging from the trees.
Flores began crossing the pasture, which sits on the opposite side of the highway from Granger's Hisey Park, at approximately 11:50 p.m.
Troopers from the Washington State Patrol and the Yakima K-9 unit met with Flores at gunpoint in the pasture and handcuffed him.
Flores suffered an apparent broken right wrist in the crash and the trooper, who apprehended him, handcuffed the uninjured left wrist.
Washington State Patrol officials said Flores was taken to Yakima Regional Hospital for his injuries. When he is released from the hospital, troopers expect to charge him with vehicular homicide for the death of Gomez-Cruz.
SR 223 was reopened at 2:30 p.m., according to Mike Westbay of the transportation department.