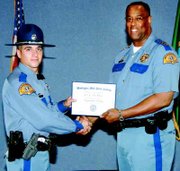 It's official: Leif Van Doren of Grandview is now a Washington State Patrol Trooper.
Van Doren graduated from WSP's basic training academy this past Wednesday and took his oath of office.
According to Van Doren's mentor at the academy, Trooper Kevin Forrester, the Grandview resident was among 39 graduates to complete the rigorous and exhaustive training.
"It's a lot like boot camp," Forrester explained. "We do put them through the paces."
Van Doren agreed. "It's very intensive," he said. "From the time you wake up to the time you go to sleep, it's constant stress." The only time the stress would start to ease up was when the cadets learned to "come together and work as a team," Van Doren added.
But, he concedes, "The reality is, there are stressful times out there on the road."
He said of the training, "It keeps you constantly striving to want to do the right thing. It keeps you in line with the real world. We're put in situations where we have to be polite and courteous, but not let safety down. It puts everything into play out here (on the road)," he said.
Another way the intensive training helps is when it comes to dealing with different personality types. First of all, Van Doren says there is no routine traffic stop, because every individual is different. Basic training was like that too, with the large group of cadets having to come together and be a cohesive, effective team.
"There are so many different people with so many different ideas of how to do things," he said. But if one person does something wrong, the whole team faces the consequences.
Forrester said of Van Doren, "He was a strong cadet all the way through. He's got a good head on his shoulders and that's what we're looking for. We have very high standards for our hiring."
Once the Grandview High School graduate realized the opportunity, he relished it. "I knew I had to work hard and dedicate myself to it and here I am," he said. "I know it's something not everybody gets to experience."
And Van Doren's quick to note the support of his friends and family, like his parents Greg and Elena Van Doren of Grandview, whom he said were key to making it through the training.
After graduating on Wednesday, Van Doren hit the road yesterday, working as a trooper out of Yakima.