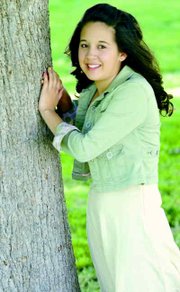 All Rebeca Barrios wants is a shot at becoming more involved in her community. And that's what she intends to do should she be crowned Miss Sunnyside come the September pageant.
"I enjoy my community," she said. "I love all the stuff we have, like how we celebrate the Mexican culture. That's my heritage," she said.
Perhaps a great way to describe Barrios is that she has a heart for service, as evidenced in many ways.
She'd like to attend college at Washington State University and study either teaching or business. But, she admits, "I'm kind of shooting for both.
"I love kids and I love the role models that my teachers are to me. And I love knowing that I can help somebody out in the world."
When it comes to pursuing a degree in business, Barrios said she thoroughly enjoys mathematics. In fact, one of her favorite hobbies is playing Sudoku, a numbers game. When asked if it was difficult, she said, "No, it's really easy. I just try to beat my time all the time."
When it comes to her community service project should she be chosen to serve as Miss Sunnyside, Barrios wants to partner with the Sunnyside Recreation Office and help them work on current projects, as well as develop some of her own.
"I like working with kids. As our city grows, it's up to our younger kids to know the future of Sunnyside."
Another area of service Barrios enjoys is acting as a guide for freshmen through LINK Crew. "We help upcoming freshmen get accustomed to high school life," she said. Barrios said she became a LINK Crew member after being guided by an upperclassman when she was a freshman at Sunnyside High School. "It helped me out a lot. I just wanted to return the favor."
During her high school career, Barrios has been involved in Pep Club, Link Crew and the dance team.
It's during the talent portion of the Miss Sunnyside competition that Barrios will demonstrate one of her favorite pastimes: dancing.
"I'm going to do an interpretative dance of "Candy Man" by Christina Aguilera. I'm going to do a couple of her moves and some of my own. I'm adding my own personal touch to it."
So far, Barrios's sponsors include Bleyhl's, Coastal Pacific, DNA Trucking Company, Les Schwab and Rick Whittley.