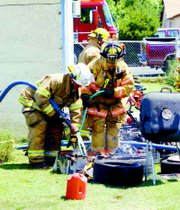 Sunnyside firefighters were called to the 1000 block of South 10th Street Thursday at 12:37 p.m. for a patio fire.
Deputy Fire Chief Lloyd Hazzard said a covered patio was on fire when fire crews arrived. He said it took approximately 30 minutes for firefighters to get the blaze under control and out.
Hazzard said the house itself didn't suffer any damage but the patio cover had approximately $500 in damage to it and damage to items underneath the patio was estimated at $200.
The cause of the fire is unknown at this time but Hazzard said it looked like it was started under suspicious circumstances. He said an investigation is ongoing.