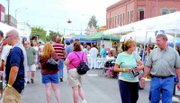 PROSSER - The city of Prosser's downtown area was filled this past Saturday night with good food and good music topped off with art and wine.
It was all part of the city's fourth annual Prosser Art Walk & Wine Gala.
Visitors to the downtown area enjoyed samples of local wines, as well as cuisine from restaurants in the area, such as Bon Vino's in Sunnyside and Country Gardens Catering on the Sunnyside-Mabton Highway.
Local band "Private Reserve" provided live jazz music to fill the evening air.
The featured artist was James Mongrain from the Seattle area. Mongrain works with renowned glass artist Dale Chihuly. The Prosser event was the debut for displaying Mongrain's work in eastern Washington.
Mongrain said he got connected with the Prosser art and wine event thanks to "friends of some friends." Mongrain said he took his inspiration for the work he displayed on Saturday from venetian wine goblets.
Speaking of wine, there were an estimated 20 Lower Valley wineries represented on Saturday. Like the artists gathered around the sidewalk scene, the wineries offered a number of colored hues, ranging from chilled rose to burgundy reds.