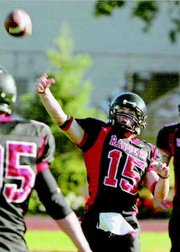 GRANDVIEW - After red-shirting his freshman year at Southern Oregon University, Grandview's Brandon Artz is looking to take his game elsewhere, to the University of Idaho.
Artz graduated from Grandview High School in 2006 and was recruited and offered a football scholarship at Southern Oregon.
Artz had sent game films to more than 60 schools and when the Oregon school made its offer, Artz committed. Three months later there was a huge coaching shake-up at Southern Oregon.
"I committed in March and by June the coaching staff that recruited me had either been fired or had left," Artz said.
Though he was a red-shirt, Artz still traveled with the team and suited up as the third string quarterback. He would also play wide receiver on the scout team.
Things started to go down hill for Artz after the coaching change. The promised scholarship money never materialized. He didn't like the small-town college atmosphere either.
Artz said that coaches at the University of Idaho had been interested in him during his senior year at Grandview but he had already committed to Southern Oregon by the time Idaho contacted him. Artz decided to give them a call.
Artz contacted Idaho's wide receiver coach, Luther Carr, and sent him some more film. Carr showed the film to the other coaches and Artz was offered a spot on the team.
Because he is transferring from an NAIA school to a Division I NCAA school, Artz must sit out a year. He has also been told there are no scholarships available to him.
But, he has been awarded a $2,000 scholarship from Idaho because of his 3.8 GPA he earned at Southern Oregon.
Artz will start practicing with the team Aug. 6 and plans to be a wide receiver or a safety.
"I'd prefer wide receiver because of my size," he added.
At 5'11" and 180 lbs., Artz thinks he'll need to bulk up a bit before he plays safety.
He never played the position of wide receiver in his prep career in Grandview but noted being a quarterback for so long, he has pretty good hands.
He's been training all summer. His goal was to be able to run a 4.6 40-yard dash by August but was able to do this by June.
"That was a big surprise," he said. "I'm hoping now for a 4.5."
Artz added his ultimate goal in football is to play for a professional team but he isn't ruling out semi-pro or arena football either.