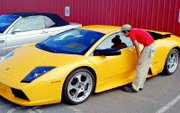 In conjunction with the Prosser Art Walk & Wine Gala held last Saturday, local winery and hotel operators approached Black Rock Creek Golf Course pro Jeff Bender about staging a golf outing for some of the visitors from the westside.
The visitors turned out to be Lamborghini car enthusiasts. Made famous by the Back to the Future movies, the Lamborghinis have just one problem when it comes to golf.
The two-seaters don't have enough room to carry golf clubs.
Bender solved that dilemma by procuring rental golf clubs for the guests.
Bender said the clinic focused on the basics of the game, such as putting, driving and approach shots. Bender personally provided the instruction during the two-hour clinic, offering tips on long fairway shots and taking questions from the gallery of 26 guests who showed up for the clinic.
They not only arrived in Lamborghinis, but in other notable rides such as BMW and Porsche.
Bender looked forward to his guests, the opportunity to display some fine rides in the Black Rock parking lot and the chance to offer a golf clinic, one of about a dozen private, corporate clinics he offers during the course of the year.
"Hopefully they'll have a good time and hopefully I'll get a ride," he laughed.