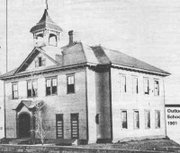 OUTLOOK - The elementary school in Outlook holds a lot of memories for many, including Dorothy Cullen, who is currently readying for the annual Outlook School Reunion, slated to take place on Sunday, Aug. 5, beginning at 11 a.m.
Cullen's parents went to school there, (her dad graduated in 1918 and her mom in 1922), she went to school there, as did her kids and one family of grandchildren.
"It's been pretty well a foundation," said Cullen. "Kind of like your church."
Said Cullen, "Mom drove her horse and buggy from up by where I live now. Different students would grab onto the back of the buggy and hitch a ride. It was a different time.
"You don't just go out and hop into a horse and buggy. You have to hitch it, you have to feed (the horse) and take care of it. It's not easy.
"They didn't have school busses then, but they did a little while later. But they were private busses."
Cullen said that when she attended the school, students brought their own lunches. But the school did have a kitchen and, in the wintertime, parents worked together to boost student meals. "Our folks would donate vegetables, like potatoes and onions, and they'd make hot soup and cocoa for us. We had that to eat, which tasted pretty good," Cullen recalls. The students would simply go through a line in the kitchen, then head back to their classrooms to feast.
Back then, playground games were a lot different than they are now and included hopscotch, dodgeball, marbles and tag. "And when we disobeyed, it (made us) miss recess, clean blackboards, clean erasers, ruler smacked on the hand.
"And if you had trouble at school, you were in trouble at home."
But, she said, there were certain honors. "If you were lucky, the janitor would let you pull the rope for the bell to go (back) in."
Over the years, Cullen's seen quite a bit of activity and challenges at the school. Like when the school caught fire in 1986.
"When they had that fire, the school board thought they should close it down and the families reacted so strongly, they decided to keep it open," she said.
Cullen also recalls seeing the smoke stack from the burning school this past winter, and the same feeling she'd had in 1986.
"You just feel devastated. You really do. From my place, I could just see the smoke and I thought the whole building was on fire.
"I just wanted it out. It almost makes you ill when you see the smoke down there. That's what happened the first time, too."
Outlook School hasn't graduated seniors since 1934, and to Cullen's knowledge, there are only two remaining graduates. One is Irl Grove of Grandview, the other is a woman who lives in Montana, she said.
There have been many Outlook School success stories, including Cullen's aunt, Ruth Anderson. Anderson went on to get her pilot's license and work for the Women's Air Service. "In those days, that was not something women did. But she did," said Cullen.
Cullen added that astronaut Bonnie Dunbar attended school there, as did Dale Green, who went on to become a judge in appellate court.
Cullen's parents, too, are a success story in their own right. "They raised four kids through the depression, got us clothed and fed and through school."
Cullen said that guests at the reunion will be able to peruse old pictures and books featuring photos of former Outlook students, and it isn't unusual for attendees to request photos.
The reunion takes place on Aug. 5 from 11 a.m. to 3 p.m. in the Outlook School music room. The meal will be a potluck lunch, and coffee will be provided.
"Bring cold drinks, gather some of your classmates and bring them also," Cullen encouraged.