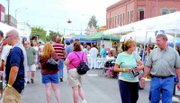 GRANDVIEW - Next month's Primary Election will whittle the field of three candidates for the Grandview City Council, position 2, seat down to two people.
The current seat holder is Jan McDonald, who was appointed to the council position last year.
McDonald is the Executive Director of Life Options and previously served on the Grandview Planning Commission before her appointment to council.
McDonald sees public safety, economic development and quality of life as key issues for the city. She praised the work of City Administrator Scott Staples in securing grants that will enable Grandview to draw up plans for downtown revitalization. "That's so exciting," she said.
McDonald says she is a "very relationship oriented" person and makes it a priority to listen to the citizens. "I'm a good listener," she said. "I like to know what people are thinking."
She feels her people skills, planning commission and council experience, as well as her administrative background will be helpful if she is elected to retain the seat.
She also pointed to her efforts with Life Options, which under her guidance has transitioned into a medical facility. "That takes some effort and leadership ability," McDonald said.
McDonald is in her third year as the director for the non-profit operation and during that time fundraising growth has enabled Life Options to increase its annual budget from $135,000 to $205,000.
"When you're working for a non-profit you have to squeeze every penny possible," she said.
Larry Bolan is vying for the position 2 council seat, bringing engineering and community service experience.
He serves on the Powell Museum Board, and says he donated considerable time in developing the Grandview Junior Miss float.
Besides getting involved with community activities, Bolan said he is working on developing relationships with current council members, noting that if elected he would see his role as a member of a team.
"I'm not going in with an agenda. It's a team job," Bolan said. "I have to develop the confidence of the other council members."
Bolan's priorities include the state of sidewalks and streets in the city.
Bolan, a retired engineer who worked for the Boeing company, noted that some pedestrian areas used by students walking to and from school do not have sidewalks and children have to walk on the street.
"I don't like to see children having to walk in the street," he said.
He also praised as a good first step the recent grants the city received for revamping the downtown area.
Bolan said if elected he would like to put his engineering education-he has a Master's degree-and experience to work in performing design reviews for the city.
"We rely on engineering firms pretty heavily," said Bolan. "I could be a good resource for helping with those technical aspects."
Mary Barrett is also vying for the Grandview City Council, position 2, seat. She brings more than two decades experience as a city resident, as well as restaurant managerial experience to the campaign.
"I find it important to work together on any decision that affects all the people who live in a town," Barrett said of the importance of teamwork. "I work well with other people."
Barrett said one issue that concerns her is hearing about some residents who have property taxes that in part go to the Grandview School District, yet they are not able to vote on school-related ballot issues.
She also would like to see the city council reach out more to the Hispanic community.
Barrett, a member of the Powell Museum board, is also optimistic about the possibility of revitalizing downtown Grandview.
She would like to go a step farther, and see Grandview recruit technical businesses such as Intel to set up shop in the city.
If elected, Barrett said listening to citizens would be a vital part of her role as a city council member.
Barrett said she would also keep the public in mind even when it comes to tough city budget decisions.
"Numbers have people behind them and they are impacted by these decisions," she said. "We can't forget the people."
The Grandview City Council, position 2, race is the only Lower Valley contest on the ballots that will be mailed out to voters on Aug. 1.
The top two finishers in the primary race will vie for the position two seat on the November General Election ballot.