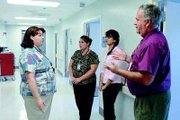 "It's a long time coming," Sunnyside Community Hospital CEO Jon Smiley observed as today the hospital reached the midway point on efforts to nearly double its ER space.
"We've had this plan in our back pocket for five years," he smiled, just a few hours before an open house was held for hospital staff to review improvements to date.
The plan calls for an investment of $3 million to add 3,400 square feet to the hospital's ER department. The emergency department remodel is the last leg of a total upgrade of the hospital that began in 1996.
The expansion project now underway will provide six urgent care examination rooms separated from the emergency area. The plan will also allow for decontamination showers in the event of an infectious disease outbreak or toxic spill. The upgraded emergency exam area will include a room dedicated to treating airborne illnesses such as Tuberculosis.
Construction started last October and is expected to wrap up by this Thanksgiving.
With the project reaching the halfway point today, hospital staff will begin moving equipment at 5 a.m. tomorrow into areas where construction is complete.
That morning the emergency department will move into the newly constructed urgent care center and vacate the existing emergency rooms which will then undergo a four-month remodel.
The second phase of construction also calls for an exterior wall to be torn down to accommodate about 1,000 square feet of the expansion.
When phase two is completed the department will have combined space of 7,500 square feet.
Hospital spokesman Tom Lathen said the project is slightly behind schedule because of a winter freeze that temporarily slowed the work schedule.
"Anyone who has built or remodeled a home knows how difficult a project can be," said Smiley. "Well, remodeling and expanding a working emergency department has been a tremendous challenge for everyone."
For hospital patients the challenge has meant walking around the construction.
For number crunchers it has meant adjusting construction costs along the way.
Bill Flower is helping the Sunnyside Community Hospital Foundation raise $3 million for the project so that the non-profit hospital does not have to incur debt for the ER project.
Construction costs were originally pegged at $2.2 million, but Flower said that figure had to be upped when it was found that extra costs would be incurred to meet modern building codes.
The foundation had $1.2 million on hand and Flower said about 80 percent of the total project funds have been pledged to date. Two upcoming fundraisers, Evening in the Park and a benefit golf tourney, both on Aug. 25, will have all proceeds designated for the ER project.
"We couldn't be more pleased with the community's response," Flower said. "We think the community will appreciate this expansion. It will add to the quality of life in Sunnyside."
When the move-in is complete this Thursday, patients and visitors will notice some immediate changes.
The emergency department entrance facing Franklin Street will be closed during phase two of construction and the ambulance entrance will face the main hospital parking lot.
Emergency patients and visitors will enter through the main lobby. Lathen recommends that visitors to the hospital enter the parking lot from Edison Avenue.
Construction and moving days aside, Smiley said it is business as usual in serving ER patients and visitors.
"We will not be without services," he promised.