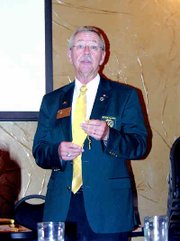 According to Rotary International District 5060 Governor Corwin King, "Everybody has one great idea in life, but most don't do anything with it..." because they underestimate the value of the idea.
He told Sunnyside's Daybreak Rotary Club members during Wednesday morning's meeting that Rotary International was founded by Paul Harris 103 years ago and the concept was successful because of Harris' diligence.
"He acted on the idea without being discouraged when the idea didn't work out the way he envisioned," said King.
He said two of the original founders of Rotary quit the club within the first six months, but Harris continued to bring in new members in spite of his co-founders quitting.
"He didn't give up," said King.
He said Harris threatened to quit toward the end of his life, however other members talked him out of it.
Now, Rotary International is one of the largest service organizations worldwide.
He urged the Daybreak Rotary Club members to act upon their ideas and not to be discouraged. "It may take longer than you expect for your idea to become a success. Be willing to share the power when it is successful, however," he stated.
He suggested three goals for successful ideas the club might have. They included serving those who are members of the organization (Rotary Club), serving the community and serving the world.
He said simple ways to measure the value of being a member of a club are to ask one's self, "Why did I join the club?, Would I do it again? and What would I tell someone else about the club?"
He said most people join clubs for fellowship and networking purposes, but the club needs to be a destination point, somewhere everyone should be.
"Often those who say they don't have enough time really mean they have something more important to do," King stated.
He said the club needs to be made important to those who are not yet members. "Let them feel it is important and they deserve to be a part of the club."
Also, King urged club members to evaluate how important the community feels Rotary International has become, based on what is said by the public about club activities.
The club needs to provide opportunities and community resources, he told the Sunnyside Daybreak Rotary Club members.
In providing international service, King said simple things can be achieved. He said sponsoring an exchange student is one way to serve the world. Another way to serve the world's needs would be to support the Rotary Foundation because of the foundation's involvement in other countries.
King also recognized the Sunnyside Daybreak Rotary Club for 20 years of service since its charter in March 1988.