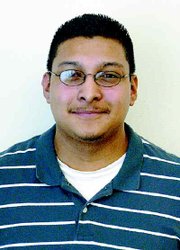 What started as a hobby when Luis Del Angel met a co-worker at Radio Shack in Sunnyside two years ago has turned into a desire for Del Angel to have a career in show business.
Del Angel took a step further towards that goal last week when he was named the winner of Carlos Mencia's rant contest. Mencia is a comedian who has his own show on Comedy Central.
"I've been watching his show for about a year and a half," Del Angel said. "I like the subjects he brings up. He opens people's minds to different things."
Del Angel started making films with his friends shortly after he met Michael Shehata at Radio Shack.
"He had some experience in making movies and he got me into it," Del Angel recalled. "We've been making movies ever since."
Along with Shehata, Edward Del Angel, Ruben Romero and Andrew Shehata, the group writes, acts and films their own material. They then put their efforts on their website, www. sunnysidecomedy.com.
Del Angel's desire is to have his own comedy show someday or to work anywhere in show business as a comedian.
"It's a been a dream of mine to have my name next to Bonnie Dunbar's name on the sign welcoming you to Sunnyside," he said.
When he found out about the rant contest, Del Angel figured it would be another opportunity to make a film and highlight Sunnyside. It was only Del Angel and Michael Shehata who worked on the rant that was sent into to the Carlos Mencia show.
The rules were the film makers had to be amateurs and the piece had to run for under 30 seconds.
The rant dealt with people's frustration of buying items second, or even third hand and being charged retail price. There were five characters in the 30 second rant, all played by Del Angel.
"Michael really helped with the editing process," Del Angel said.
Del Angel said it was tough playing different characters and then putting it all together. He said one of the things he likes about Mencia is his ability to do this.
"It's not very easy," he said.
Del Angel and Shebata's feature was aired during last week's Mencia show. Del Angel said he found out he was the winner near the end of June.
"I almost cried," he said. "It was the biggest thing I've ever won in my life."
He would like to go to film school and follow in his favorite directors' footsteps, Sam Raimi, Quentin Tarantino and Steven Spielberg.
Although Del Angel didn't win any money or film contracts, he still walked away with something.
"I won 30 seconds of fame, basically," he added.
.