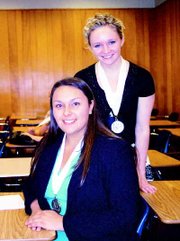 Come next Tuesday, Grandview Junior Miss Katie Veloz will pack up her bags and head to Pullman to compete in the Washington Junior Miss program.
"It's coming up quick," said Veloz. "I'm getting excited."
While in Pullman, Veloz will have only a matter of a few days to learn the routines for the opening act, fitness routine and poise. Veloz said she knows it's going to be challenging.
Another challenging aspect is that the size of the crowd will be so much larger than what she faced when she competed for the Grandview title last April.
"It's a bigger crowd because there are 16 other girls (participating)," she said. "But, then again, it's unknown faces (in the crowd)."
For the talent portion of the program, Veloz will play the Lady Allison Minuet on the piano. Rather than trying to memorize the piece, Veloz said that, knowing she'll be nervous, she's going to go ahead and use a music sheet.
The program is slated for Saturday, Aug. 4, at Washington State University's Beasley Performing Arts Coliseum.
Veloz will compete not only for the 2008 title, but for a $3,500 scholarship, as well.
But that's not the only scholarship. According to program chairwoman Danielle Kallaher, other scholarships include the $300 Spirit of Junior Miss, two preliminary $200 scholarships and a $500 scholarship for scholastic achievement. Two scholarships of $200 each will be given in the talent, fitness and self-expression categories.
While in Pullman, Veloz can't check email or receive phone calls, but well-wishers can write to her at her host family's address. Send letters to Mark and Joy Bradley, 265 SE Meadowvale Dr., Pullman, WA, 99163.
Grandview Junior Miss chairwoman Cookie Shannon said of Veloz, "She's done a good job of representing Grandview. We want her to have a good time at state."
Tickets for the state competition are available by calling TicketsWest at 1-800-325-SEAT or on the internet at TicketsWest.com. Cost for the tickets is $15 per person.