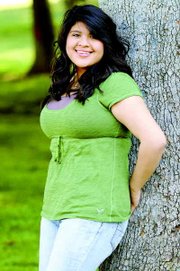 The last thing Gabriela Castillo probably imagined herself doing was tossing her hat into the ring to run for Miss Sunnyside. But the shy-at-first-glance high school junior sees this as a huge improvement for personal growth.
"I wouldn't normally do this. I don't usually like to be the center of attention, which I guess is what it's like being in the spotlight," she concedes. But, she adds, "I'm really looking to be more involved in the community. What better way to do that than to be Miss Sunnyside and represent the city at social functions?"
Often times, people are shocked once they get to know Castillo and she's more at ease, less shy. "They'll tease me and say, 'Now we can't get her to be quiet!'"
If selected as Miss Sunnyside, she's eager to hone her public speaking skills. "Speaking in front of other people will help me in the future, so I might as well learn it now," she said.
Castillo is just now branching into the world of music. She's rapidly learning how to play drums and the guitar and, with the encouragement of her uncle, she's going to sing during the talent portion of the Miss Sunnyside Pageant. Now, she says, as long as she can keep her nerves at bay, she should do fine. "Hopefully the blinding lights will help," she says with a laugh.
To overcome her shyness, she's asked to read aloud at her church. "Any little practice helps," she said.
Should she be selected as Miss Sunnyside, she wants to help Nuestra Casa as her community service project, which is a natural fit as she's very passionate about the Catholic Church, which she attends. Regarding Nuestra Casa, she says, "Everything they embody as an organization is everything that I believe in."
Castillo feels it will be as much a boon for the program as it will for the Miss Sunnyside court, should she be chosen to lead them. "It will help the girls see women in a whole new light." She'd like the court to focus on ESL classes and provide childcare for the women attending Nuestra Casa's other programs, like the citizenship, nutrition and driver's license classes.
Castillo's favorite classes in high school are English and history. When it comes to English, reading and group discussions about writings, she says, "There are different answers, different truths. There is more discovery involved in it...there are a lot of different right (answers)."
Castillo's sponsors include Raquel's Hair Boutique, Deportes Castillo, Carniceria Coalcoman and Pepe's Bakery.