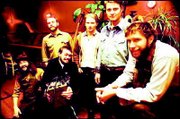 PROSSER - A mix of folk rock, bluegrass and punk, the unique sound of the Hackensaw Boys of Charlottesville, Va. will be in Prosser at the Princess Theatre Friday and Saturday, Aug. 17 and 18.
This group began playing its music on the streets of Charlottesville in 1999.
The music is described as sophisticated and informed by the best elements of punk rock and classic country music.
The group consists of six members, whom all sing and play instruments. They include Mahlon, who plays the mandolin and guitar; the Kooky-eyed Fox, who plays a banjo or a fiddle; Salvage, whose instrument of choice is the charismo; Baby J is on the upright bass, the harmonica, the accordian or the guitar during performances; Four plays the fiddle and the upright bass; Spits performs on the guitar; and Pee Paw is on the bass or fiddle.
Staged Right Scenery Consultants Owner Dale Miller, who is coordinating the event with the Princess Theatre, said, "I have worked with these guys before at the Pier in Seattle, and these guys produce a full sound, topped off with tight vocals and rustic harmonies."
The huge variety in their style is attributed to having six band members.
The group has toured the U.S., Europe and England, becoming recognized as one of the most exciting groups on the diverse American music scene.
The Hackensaw Boys' latest release is called Look Out and is available on CD. Twelve songs are featured on the release.
The performances at the Princess Theatre are scheduled at 8 p.m. both nights, and tickets can be purchased for $27. To leave a message for tickets call 509-786-6800 or leave a reservation request via email at contact@theprincesstheatre.org.
The Princess Theatre is located at 1226 Meade Avenue in Prosser.