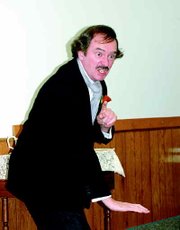 His visit to the Sunnyside Library last night (Thursday) was brief, lasting only about an hour or so. But in those 60 minutes, Edgar Allen Poe captivated his audience.
Technically, it wasn't the real famous writer that visited, but rather actor Tim Hoban playing the part.
And play it up he did.
Librarian Amy Ravenholt asked the audience to imagine the actual Poe visiting Sunnyside in 1849, when Poe was 49-years old. She also reminded the audience that "within months, he'll be dead."
As the beleaguered Poe, Hoban told the audience that at the heart of all of his trials was the want of parental affection. He said this as he poured "whiskey" from a flask into his teacup, indicating Poe's much publicized drinking problem.
In between readings of Poe's famous works, like "The Raven" and "The Tell-Tale Heart," Hoban offered snippets of Poe's life, like the suffering he endured when his wife, Virginia, became ill, as well as his contempt for other writers and critics.
This wasn't the first time Hoban performed the act for an audience. The script was written by Bryan Willis, a Pacific Northwest playwright, which Hoban has performed in schools and in the Puget Sound area.
The performance was made possible by the Yakima Valley Regional Library.