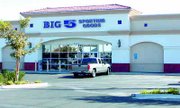 A new building will be going up in Sunnyside, home to a Big 5 Sporting Goods store. The site for the new store will be next to the Auto Zone store near the Mid Valley Mall.
According to Sunnyside Building Department Director Mike Storms, plans for excavation, clearing of land and preparations for a new building were submitted to the Sunnyside Building Department Thursday, July 5.
Big 5 Sporting Goods got its start more than 50 years ago as a small group of Army Surplus stores in Los Angeles, Calif.
The El Segundo, Calif. based sporting goods stores have grown from a group of five stores to approximately 343 stores in 10 western states today.
"You don't think of Big 5 as a large chain until you realize how many stores they operate," said Vice President of Research and Information for the National Sporting Goods Association, Thomas Doyle. He said the chain's combined stores amount to the size of 70 to 80 "big box stores."
Most of Big 5's sales consist of "hard goods" as opposed to apparel and footwear, making it different from its competitors.
Its focus is on the everyday athlete and sports enthusiast versus the elite athletes.
"They try to be very center-of-the-market in their focus and they are very good at delivering on that," said Doyle.
Marketing is limited to mostly weekly newspaper inserts and internet coupon specials, with a belief that fliers drive sales and traffic, promote and reinforce its brand image and reach more customers more efficiently.
The stores are low profile and the company generally doesn't like to discuss its plans or strategy with the press. "They've always been pretty quiet," stated Doyle.
Mid Valley Mall Manager Greg Meshke said he is extremely excited to have Big 5 opening in Sunnyside.
He said, "We are anticipating the opening of the store for Christmas season...late November to early December."
Meshke stated the store will be one of the company's signature stores and the need to have such a store in the Lower Valley is overdue. "It just isn't available (right now)," he added.
As to how eager Meshke really is, he said, "I'll be one of their better customers."
Mid Valley Mall owner Francis Carrington has decided to build the new store for Big 5 Sporting Goods after success in building the Fiesta Foods store last year, according to Meshke.