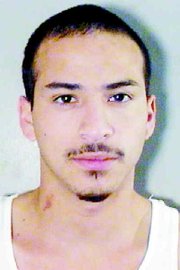 Sunnyside police have identified a 25-year-old Grandview man thought to have shot and killed a 26-year-old Sunnyside woman early Sunday morning.
Both the suspect and victim are believed to have gang ties.
The shooting took place in the downtown area of Sunnyside at a private residence.
Police arrived to the home in the 700 block of South Sixth Street at 3:40 a.m. Sunday morning to find Veronica Ayala with a gunshot wound to the head. The Sunnyside Fire Department arrived on the scene, treated the victim, and then transported her to Harborview Medical Center in Seattle in critical condition. Ayala later succumbed to her injuries.
According to a press release issued by the Sunnyside Police Department, the investigation has revealed Eric Flores as the likely shooter. He is believed to have fled the scene on foot and is considered armed and dangerous. He was last seen wearing a white shirt and brown shorts. He is believed to have used a semi-automatic weapon that still has not been recovered.
Police said there is probable cause to charge Flores with murder.
"We're going to be filing second degree murder charges against Flores some time today (Monday)," Sunnyside Det. Sgt. Jeff Cunningham said.
Flores is described as 5'6" and 125 lbs. Both Flores and Ayala, said local law enforcement officials, are known to be associates of the same gang and have had previous gang involvement. Police are keeping tight lipped about the motive of the shooting due to the on-going investigation.
Police are asking anyone with information on the location of Flores to call 836-6211.