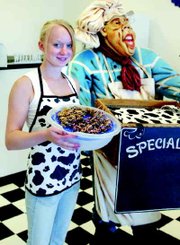 Looking for ways to improve visibility and let people know about the businesses in the strip mall in front of Wal-Mart, business owners and the Sunnyside Chamber of Commerce threw a block party last Friday to open people's eyes.
Several of the businesses in the strip mall had specials and a few set up booths in front of the strip mall.
Aracely Villalobos, owner of Jem's in Sunnyside, said she thought it exposed her business to more people.
"Some people didn't know we were in town," she said.
She added the crowd was small but she still did business.
Jessica Zamorano, manager of Totally Cellular, said she's only heard positive feedback about the block party.
"My business was busier than usual," she said.
The block party was part of the Sunnyside Chamber of Commerce's ambassador program. This allows businesses to network and get to know each other.
Zamorano said she would like to do something like this again. She wants to get together with the chamber to sit down and go over everything, to determine what could be done better.
"I think any sort of attention helps the businesses," she added.