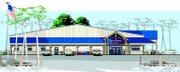 GRANDVIEW - Come winter, Grandview residents and those zipping along the nearby freeway just might notice a change on East Wine Country Road where the Bleyhl's main office and Cenex gas station are located. According to Bleyhl Farm Service, Inc. General Manager Greg Robertson, plans are currently underway to build a 30,000 square foot facility that will house a convenience store, offices, retail farm supplies store and warehouse.
The building will be located just in front of Bleyhl's main office, located at 940 E. Wine Country Road.
Robertson said that this is the third phase of a project that began in 1998 when Bleyhl Farm Service, Inc. bought 23 acres of property on the east end of town.
The first phase, he said, was to build the Cenex fueling station. That was completed in 1999. By 2000, phase two was complete with the building of the main office, petroleum office and warehouse on the other side of the gas pumps.
"Phase three is to bring the Grandview store out here," said Robertson. Currently, the Grandview store is in town at 119 East Wine Country Road. "The historical Bleyhl's on the streetside will be gone someday," said Robertson, adding that the building in town will likely be demolished and the property used for Bleyhl's agronomy center and additional storage for orchard and vineyard supplies.
With the new Bleyhl Country Store, which is currently in the planning stages, Robertson said the convenience store will face the fuel pumps, while the Bleyhl Country Store will face the freeway.
Robertson said he hopes that construction will begin around the first of the year in 2008 and completed by spring.
Bleyhl Farm Service, Inc. provided water and sewage infrastructure and will sell about 13 acres out of the acreage they bought in the late 1990's.
Artist's rendering provided by Greg Robertson
This artist's rendering depicts a 30,000 square foot building (currently in the planning stages) that will be erected on East Wine Country Road and will house the Bleyhl Country Store, a convenience store facing the Cenex gas pumps and a warehouse.