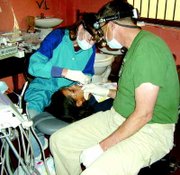 PERU - Sunnyside dentist Gary Martin recently traveled to Peru as part of a Southern Cross Humanitarian trip.
Martin traveled with his wife, Katie, his son Jon, dental assistant Mary Jo Odfield, and her daughter, Taylor.
While there the group traveled to the Sunflower House orphanage in Urubamba and Cusco, Peru.
According to Katie Martin, there were very specific objectives to the trip: to improve literacy and education, improve health and hygiene, to assist in home production and storage, and to assist with children's issues and needs.
With regard to the Southern Cross Humanitarian organization, Martin said, "Their program is not of relief, but one of village development and self-sustainable children's homes...expedition members are not to interfere with the natural evolution of local culture and their goal is to help those in need and to help enhance their awareness of the world around us."
The trip was memorable, to say the least.
"The trip was one none of us will ever forget," said Martin. "It was filled with hard work at the orphanage, exploring spectacular ruins, but, most of all, we were honored to be of service to the children at the orphanage."
Members of the group struggled with the altitude in Peru and three of the children eventually became ill with altitude sickness.
"The physical labor (digging ditches for water lines, hauling river rocks from the river to create stone paths, digging holes for electricity poles and moving large adobe bricks around) seemed that much more taxing because of the thin air," said Martin. "But no one could have asked for a harder working group than ours."
Other work included sewing pajama bottoms for the orphans, painting rooms, and, as Martin mentioned, "Doing a lot of whatever needed to be done." Martin noted that her son, Jon, painted and cleaned out the medical room at the orphanage.
She added that each member of the group was asked to bring a suitcase filled with humanitarian items, which they did. "We brought toys, clothes for children, school kits, newborn kits, 200 bags with toothbrushes, toothpaste, etc., 100 beanie babies and, of course, dental supplies," said Martin.
"As they said in the literature, this is not a vacation, but an opportunity to serve and work hard. It was wonderful!"
Dr. Martin and Odfield spent two days in Crusco providing dental care to jailed children. Mrs. Martin said that the kids were jailed for offenses like theft and prostitution, and that many of their parents could not be located.
The atmosphere wasn't pleasant. The jail smelled terribly and they had no electricity. To top it off, some of the orphanage's dental equipment wasn't working.
"Unlike so many of the youth here that seem hardened, these kids have lived such tough lives, but are still warm and loving, even to strangers," she said. "They don't come across as tough at all.
"It is for children like this that the orphanage exists."
Martin said that on the third day of the trip, the group made their way to the orphanage.
"What a greeting awaited us," she recalled. "The children were all lined up along the dirt sidewalk, many of them in traditional dress ready to greet us.
"It was both a joyous and solemn occasion, because we found that it was those with so little that could give so much to each of us."
After spending time with the children, Martin said the group split off into work groups, doing work like digging the water-pipe ditch and hanging gates.
But a genuine highlight for the trip, said Martin, was distributing the humanitarian packages to the kids. Martin describes their smiles as "bright as the Peruvian stars at night."