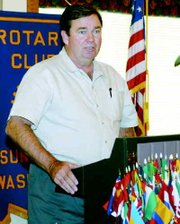 Yakima County Commissioner Rand Elliot answered questions from members of the Sunnyside Noon Rotary Club Monday.
Elliot told Rotarians he has been in office for eight months and so far it has been very enjoyable.
"It's great working there," he said of the board of county commissioners. "The people are very dedicated and hard working."
Elliot serves the third district, which encompasses Sunnyside.
He said the only two issues coming up for the board are two public hearings on critical areas and shoreline management plans of the county's growth management plan.
"The process has been a long one and it is now time for a public hearing," he said.
A public hearing was held last night (Monday) at the Yakima Valley Museum and one more will be held tonight (Tuesday).
He said areas are added to the Urban Growth Area every year but the county is steered pretty closely by the Growth Management Act.
"The critical areas ordinance was enacted some time ago," he said. "It has to be looked at from time to time."
Critical areas include streams, fish habitats, geographically sensitive areas and aquifer recharging areas.
"We're looking to minimize the effects these two plans will have on the citizens of Yakima County," he said.
The commissioners will also be looking at ways to protect the shorelines, including the creeks, rivers, springs and lakes.
Elliot also updated the Rotarians on the new jail in Yakima. He said the jail should be at full capacity by the end of the year.
Originally the jail was supposed to house 440 inmates but due to financial problems, only 288 inmates will be housed there.
Yakima County has an agreement with more than 30 cities, known as the King County Consortium, to house inmates.
Elliot praised the efforts of commissioner Mike Lieta of district one for getting the money secured to open the jail, and Department of Corrections Director Steve Robertson for making the proper changes to get the jail functional.