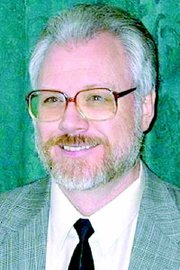 Community residents are being encouraged to turn out this Sunday, June 3, to hear special guest speaker Dr. Thomas Kindell of Reasons for Faith Ministries.
Sunnyside's Neighborhood Church of the Assemblies of God will host the guest speaker. The church is located at 385 E. Allen Rd.
Kindell will make three presentations this Sunday. The first will be at 9:30 a.m., and is entitled "Is There a Monkey in Your Family Tree?" The second talk, called "Can the Bible Explain the Origin of the Races?," will be presented at 10:45 a.m. Kindell's third presentation, "The Great Dinosaur Deception Exposed," will be at 6 p.m. Sunday evening.
"All three talks are open to the public and are free," said Neighborhood Church of the Assemblies of God Pastor Bob North. "We encourage everyone to come and listen to Dr. Kindell."