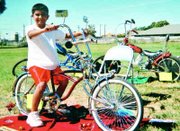 In keeping Elias Mario Rocha II's memory alive, his family is currently readying for the second annual St. Joseph's EMR Car Show, created and named in his honor.
The show will feature auto, motorcycle and bicycle entries.
Rocha, who passed away in June 2005 following a car accident, loved working hard, working on automobiles and had a passion for his church, said his mother, Sally Rocha.
Rocha said that her son, who passed away at 22, had opened a construction business with his father, Elias. His dream was to build a new church for St. Joseph's.
"It was his dream. It wasn't mine," said Rocha. But in keeping his dream alive, all proceeds from the July 21 car show will be given directly to St. Joseph's Catholic Church.
Rocha said that one influential factor in taking on hosting a car show was the fact that she was told after her son's funeral that the church was too small to hold those who wished to attend.
"I didn't see it, but they were telling me there were a lot of people that didn't fit in the church. People just could not get in, so they left and waited at the cemetery," she said.
Last year's car show featured 59 entries, and Rocha's hoping for even more this year.
Rocha said that without the help of her family, her brothers, sisters, nieces, nephews and in-laws, she wouldn't be able to organize the event.
"They all remember him (Mario). Everything they do, they do it for my son," she said, whether it's food or cash donations.
At last year's event, 8-year-old Isaiah Guerrero wanted so badly to honor his cousin Mario with an entry at the car show that his family bought him a bicycle. He entered it in the show, and, said Rocha, won a trophy.
This year, Rocha said she sent letters out to businesses in the auto industry, offering a vendor space at this year's show for $40. "It's not open to other vendors, it's got to be related to cars," she said.
Rocha said that Mario believed strongly that if an interest in cars was fostered in children, it could blossom into a creative, positive hobby that could potentially steer them clear of trouble.
Because the family wants to honor that, they're working towards making the car show a more family friendly event and have even hired a clown.
Rocha's daughter, Jessieca Navarro, said that there will be drawings at the event, featuring donated items, like a brand new zoot suit, four hours of free music from In Your Face Productions, four hours free security from Garza Security and gift certificates from local businesses.
Already, the Rocha family and friends are prepping their own vehicles for the show. In fact, several of Mario's friends have been at the Rochas' working on their vehicles and hanging out. One night, Mario's dad even barbecued for the friends. "It felt like Mario was here," said Rocha.
The car show takes place at St. Joseph's school grounds on Saturday, July 21, from 6 a.m. to 3 p.m. Cost to enter is $25 for cars, $15 for motorcycles and $10 for bicycles. Trophies will be awarded and plaques presented to sponsors.
For more information, call Mrs. Rocha at 830-5138 or Navarro at 830-8349.
More like this story