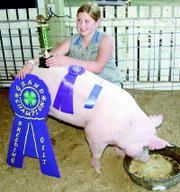 GRANDVIEW - The Yakima Valley Fair and Rodeo is gearing up for its 80th annual event, slated to take place Aug. 8-11 at the Grandview fairgrounds.
According to fair treasurer Mike Bradshaw, vendor applications for the 2007 event are currently being accepted. "This year, it's going to be better than ever," said Bradshaw.
"You will want to plan on setting up your exhibit or booth for the entire time of the fair because of all the great events that are going to take place."
Commercial booth and vendor applications will be processed on a first-come, first-serve basis.
In addition to the 4-H livestock shows, exhibits and other events, there will be a number of fun contests that take place during the fair, including a watermelon eating contest on Friday, Aug. 10, from 1 to 2 p.m., which is sponsored by Valley Publishing Company.
On Thursday evening, Aug. 9, the annual community parade will take place downtown and will feature performances by Yakima Valley Band and Cheer Day participants. After studying with University of Washington musicians and cheerleaders all day Thursday, Valley students will perform at both the parade and then the fairgrounds.
At 8:45 p.m. on Thursday, the Yakima Valley Band will perform at the amphitheater.
On Friday and Saturday nights, crowds will flock to the rodeo grounds for the Professional Rodeo Cowboys Association rodeo, which features area cowboys.
The ever popular "Diaper Derby" also takes place on Friday night at 6:30 p.m. Parents of babies who've yet taken their first steps are encouraged to bring the kiddies on down to see who can crawl to the finish line the fastest.
A scarecrow contest takes place on Saturday, Aug. 11, at 5 p.m. Contestants must race against the clock to barrels of clothes and piles of hay to dress a scarecrow.
On Saturday, the Grandview Chamber of Commerce will once again host the annual car show, which last year drew in a staggering 107 entries. This year's grand prize is a chromed out Chevy motor donated by Motorworks in Spokane.
According to Buster Hunsaker, who is helping to organize the car show, veterans will be honored this year with a $5 chit if they can prove they are veterans. The chit can then be used towards car entries or toward the purchase of a T-shirt.
Cost to enter the car show is $15 per vehicle or motorcycle registered prior to the Aug. 11 show or $20 for those who register the day of the show. Entry forms can be obtained at the Grandview Chamber of Commerce office or at Lower Valley Machine Shop in Grandview.
On the morning of the car show, the Chamber will also conduct a rubber-ducky run. Participants can purchase a rubber duck for $1, the ducks will be placed into the river at Mabton and the first duck to cross the finish line in Grandview wins.
For more information about the fair, or for vendor applications, call Bradshaw at 786-8250.