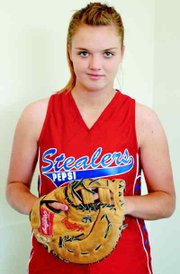 Sunnyside High School sophomore Brittani Ramerman is extending her fastpitch softball season, with plans to play for the Yakima-based Pepsi Stealers this summer.
Ramerman, who just completed her second year on the Lady Grizzly fastpitch varsity team, will play first base for the Stealers, an AAU team.
"I'm left-handed so it's a good position for me," she said.
Ramerman initially approached a Davis High School softball coach about possibly playing summer ball in Yakima. The connection was solidified when someone from the Stealers saw her play and recommended her for the team.
The Stealers, who play weekend tourneys through July, open the summer season with a tournament in Vancouver this coming weekend.
Ramerman said there are more coaches available during summer ball, which will help with more individualized help and instruction.
She hopes to bring back some of the lessons learned this summer when she plays for the Sunnyside High School softball team again next spring.
In the meantime, she's hoping the experience with the Stealers will help make her a better all-around player. A self-described "slap hitter," Ramerman especially hopes the experience will sharpen her batting eye and accuracy in putting the ball into play.
Ramerman's sports goals extend beyond high school and AAU.
Also a varsity volleyball player for the Lady Grizzlies, she said she hopes to play at the college level in either softball or volleyball.