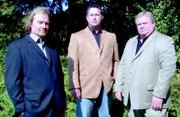 First Baptist Church in Sunnyside, 401 S. 18th Street, will present a concert by Blackwood Legacy on Sunday, June 10, at 11 a.m.
The Tennessee-based Blackwood Legacy gospel group features Rick Price, a former Blackwood Brothers Quartet lead singer and Gospel Music Hall of Fame inductee.
Admission is free and a love offering will be received.
During the Great Depression, the Blackwood Brothers were at the height of their fame singing gospel classics and spiritual standards.
The vocal group amassed nine Grammy awards and 27 Dove awards over their decades-long career, and was inducted into both the Gospel Music and Grammy Hall of Fame.
As the original Blackwood Brothers retired, various singers came in to take their place including, in 1977, Rick Price.
Eventually the original group was formally dissolved. After much soul-searching and hundreds of requests for the music of the original Blackwood Brothers Quartet, Price created Blackwood Legacy, a tribute to the world renowned ministry he was involved with for so many years.
One of the gospel singers Price gathered for Blackwood Legacy is Chris Reed, a 2006 gospel musician of the year in Tennessee. Another is Don E. Thomas, formerly of the popular Florida Boys Quartet.
While Blackwood Legacy maintains the southern gospel style that made the Blackwood Brothers famous, performing favorites such as "How Great Thou Art" and "Beulah Land," they have also incorporated a contemporary sound that reaches old and young alike.
Over the past six years the group has averaged more than 240 dates per year throughout the United States and performed on TBN's "Unfolding Majesty" television program, as well as other Christian broadcasts.
For more information on the June 10 concert in Sunnyside, contact the church at 837-2734, or Blackwood Legacy's tour coordinator at 866-855-1036.
Additional information about Blackwood Legacy is available at www.blackwoodlegacy.com.