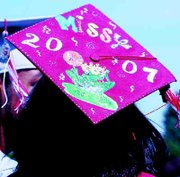 GRANDVIEW - Grandview High School held its 2007 graduation commencements this past Saturday.
The class had two valedictorians, Allison Grow and Josh Babcock, and the salutatorian for the class of 2007 was Danika Martinez.
The invocation was given in English and Spanish by Babcock and Emmanuel Perez, respectively.
Following the invocation was Martinez's speech regarding how life is measured. She said life is measured by either failures or successes.
"Just as failure exists, so does success," Martinez addressed the audience.
Stating that a person can overcome their failures in life "...when adversity knocks at your door," she asked, "How will you respond?"
Giving an analogy of the response of carrots, an egg and a coffee bean that has been boiled, she said people can become softened, hardened or "you can change your circumstances as the coffee bean changes the water."
Grow's speech highlighted the new freedoms of graduation. She said freedom also garners choices.
"We have the freedom to make mistakes and learn from them, we have the freedom to choose our own path," she said.
But, she also noted that with freedom comes responsibility.
"I remember being four and attending a graduation ceremony," said Babcock. "I remember a speech about exploding down a river."
Saying he always wanted to give a speech that was memorable, he decided to highlight what he has learned about life.
"Life," he paused for effect, "isn't fair."
Babcock said that it doesn't matter how much we want life to be fair, it just is not.
"But, it all it comes to is a game with rules, shortcuts and secrets. We'll never win unless we learn the rules," stated Babcock.
One rule he noted was that people are unreasonable, illogical and selfish. But, we are to love them anyway.
He said we are to do good regardless of what others may think of our good deeds and we are to help even if we are attacked for helping.
We are to build and become successful no matter the obstacles placed in our way.
"Our greatest fear isn't that we are inadequate, but that we possess more power than we realize," said Babcock.
The address was in both English and Spanish and after a microphone malfunction, Babcock used a back up to conclude his speech.
"The power to live life without reservation is available to everyone. Never let fear hold you back from achieving, dreaming and succeeding. Each of you has what it takes to be successful, but ultimately it is up to you," he said.
The class chose Else Stacey to be the class speaker. She spoke about the class being cut and polished by life as diamonds are cut and polished to show all the beauty they possess.
She said there are three new C's in the shaping of people. "They are character, courage and creativity."
The class was presented to Grandview School Board President Tim Grow by Superintendent Kevin Chase, and then, they received their diplomas.
Receiving scholarships for the Grandview class of 2007 were Kolten Adams, Elizabeth Alcocer, Anastacia Andrews, Joshua Babcock, Chante Bottineau, Raymond Cantu, Logan Desserault, Irma Fajardo, Ernestina Fraga, Allison Grow, Daniel Harris, Marissa Herrera, Maricela Ibarra, Chad Larson, Kyla Leyendekker, Danika Martinez, Alexiis McLean, Michael Nelson, Adrian Perez, Zachery Poteet, Janett Romo, Aaron Riggs, Mayra Sales, Brittnee Sanchez, Joshua Smith and Jeremy Stegeman.