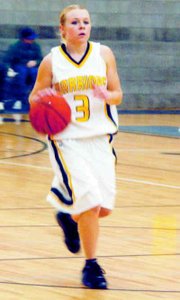 Grandview's Tami Lambrecht will join the Corban College Warriors next season to play women's basketball for coach Terry Williams in Salem, Ore.
The Sunnyside Christian High School 2004 graduate has been playing at Walla Walla Community College, where she was able to build up her resume well enough to gain the notice of Williams.
Lambrecht said Williams came to see her play in the 2007 NWAACC Tournament, where she helped Walla Walla to a sixth place finish.
"He said he was interested in me coming to play at Corban and offered me a scholarship after the tournament was over," she recalled.
The Oregon Institute of Technology was interested in her as well, she explained, but Corban College is a Christian school and closer to home, which influenced her decision.
This past season at Walla Walla the 5-4 Lambrecht averaged 5.8 points, 2.9 rebounds and 1.7 assists per game for the Warriors, according to a press release provided by Corban College.
During her freshman year Lambrecht helped Walla Walla to a runner-up finish at the NWAACC tournament.
Lambrecht will get an opportunity to play with Ashley Connell and Margie Lou Correll, two players she faced when Walla Walla played against Wenatchee Valley College.
"I'm excited to play with them next year," she said. "It will be fun getting to know them."
Lambrecht believes she will play point guard at Corban College but isn't ruling out shooting guard.
"I will probably play point guard," she said. "That's what I'm most comfortable with. I'm not a big scorer and I tend to look more to pass the ball and create plays."
Corban College will cover Lambrecht's tuition and books up to $6,000 and she said she will study exercise science at school. She would love to play basketball overseas, however, if this doesn't happen she would like to work for a pro or college basketball program or be a personal trainer.
"I'm really excited about this," she said of going to Corban College. "I didn't think I'd go much further than playing community college basketball. I want to keep playing as long as I can."